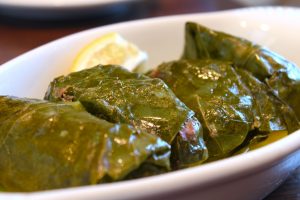 Venture from your normal dining experience and enjoy the rich flavors, blend of herbs and seasonings and fresh ingredients that have become the cornerstone of Mediterranean dishes. On your next visit, be sure to try these mouth-watering Greek dishes:
Dolmades
These exotically named stuffed grape leaves are a staple on many Greek menus. Dolmades can be one of the healthiest options on the menu. The appetizers are stuffed with a combination of ground sirloin, rice and spices simmered in avgolemono, a lemon egg sauce.
Saganaki
Saganaki commonly refers to a fried cheese appetizer, yet is actually a traditional Greek cooking pan. The Kesseri Greek cheese is seasoned, seared and lit a flame at your table. The flame is extinguished with a squeeze of fresh lemon juice and served with freshly made bread.
Pastitsio
Known as Greek lasagna, is a layered baked pasta dish filled with ground sirloin, a homemade marinara sauce and a creamy béchamel. Taking its name from the Italian for baked savory pies, the dish is commonly found throughout the Mediterranean and Egypt.
Souvlaki
A Greek fast food of sorts, Soluvlaki, is a skewer of grilled meat and vegetables. Whether you eat them with pita bread or with a salad, don't skip the tzatziki dip.
Baklava
A favorite in Greece and many other Middle Eastern countries, this sweet treat combines honey, a flaky pastry crust and nuts. The crushed nuts of the dish vary by region, typically being almonds, walnuts or pistachios.
Spanakopita
Whether they are sweet or savory, pies are a staple of Mediterranean cuisine. Spanakopita offers a creamy filling wrapped in a flaky filo crust. Many of the classic varieties are filled with spinach and feta cheese, while tyropita is stuffed with a savory cheese filling.
Gyro
One of Greece's biggest exports, the gyro is the Mediterranean version of a burrito. Sliced lamb and beef are heavily seasoned with fresh herbs and spices, served with lettuce, tomato and homemade tzatziki.
Are you ready for a taste of the Mediterranean? Join us at our Chattanooga Greek Restaurant and enjoy rich flavors and Greek specialties without leaving the Scenic City.